The Global Stars 4 ship aerobatic display team visited Zhuhai International airport, China for the launch of the Skoda Octavia. The event was the first time that aircraft have been used for a product launch in China as far as we know.
The display was for the VIP guests of Skoda and journalist from all over China.
Confirmation of the booking was whilst was during Aviation India 16-18thFebruary. "bring 4 Extra 300 to Zhuhai" With just 6 weeks to manage all the logistics of pilots and aircraft this was quite a task, especially when with just 4 weeks to go it became apparent that the ex India aircraft would not get to Zhuhai in time. The ship they were on is subject to a GENERAL AVERAGE claim when cargo incorrectly declared exploded killing a crew member and starting a fire which damaged 7 containers.
Two replacement aircraft had to be found and hired to be air freighted out via Hong Kong. New shipping frame to be made, aircraft collected from North and South UK, disassemble and mounting on frames suitable for air freight taking place over the bank holiday weekend. Truck to LHR for 48 hours "rest" whilst wrapped in plastic, after this "rest" an air sample is taken and analyzed checking for explosive content. Then a truck to Amsterdam for a KLM direct flight to HK.
The team consisting of 4 pilots and 3 engineers, one licensed on type fly LHR to HK via Virgin overnight to arrive just 6 hours later. Assembly of the 2 a/c sent by sea freight 5 weeks earlier commenced at midday the following day. Temperatures were "blast furnace" with humidity in the region of 80 – 90% every day, just standing still sweat appeared.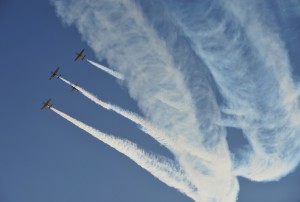 The air freighted a/c were held in customs for approx 3 days, however nr 1 & 2 Extra 300s and 300L were in assembly and test flown during this time. Late PM on day 2 nr 3 & 4 arrived on there pallets. Lots of shouting of instructions they were unloaded from the flat bed lorries.
Day 3 saw the 2 teams of assemblers start work at 06:30 to complete the assembly and ground run in the same day.
Day 4, test flying and formation practice was flown after several meetings to discuss air space, organisers requirements etc. Practice was only available from 7AM to 8AM, this being an International airport vacant slots were hard to come by . Unfortunately mist and low cloud prevailed at these times. The low show was practiced in the mornings. Later in the day 20 mins slots were available when the WX was good.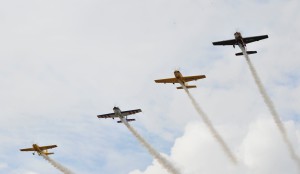 The practice allowed the marketing company SMS to assess what figures were available and he chose 5 set pieces which had to be performed exactly to his timing to be interspersed with set car sequences. A large screen 9 x 49 meters displays the action from previous days giving the impression a live filming on the screen.
The culminated with the Global Stars taxing into the arena to be presented to the assembled media.
At 19:30 we were released from air show duties to commence disassemble of 2 aircraft.  A working supper was taken with work stopping at 21:30. The following day was another 06:30 start to really press on with the disassemble and packing. The last 2 a/c being required for a press day and being released at 16:00. Work flowed straight onto nr 3 & 4. All aircraft securely packed by early PM the day after thus giving a free afternoon. In my case this was taken up with talks about the next show in October 3-5th Laiwu.
This show is a "World Air Carnival" event. Laiwu being approx 350 km westwards from the port of Shanghai. The whole exercise will be repeated again at the end of the UK/ European air show season. The World Air Carnival will have teams from various Countries with pilots of International note. One such pilot being a current EM member of Parliament and former prime minister and president of Lithuania Mr Rolandas Paxas. Rolandas last lead the Global Stars team in South Korea with 4 YAK 50's. At The Laiwu event he will again be team leader plus fly a solo freestyle show. Till next time….