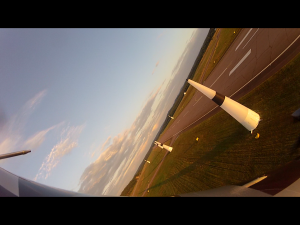 Sami Kontio Air Challenge 2012 (19th/ 20th Aug)  is taking place at Jyväskylä Airport (EFJY) this weekend… Its like a Red Bull Air Race with a 4 minute freestyle aerobatic contest – all points are added up to get a winner… it's certainly challenging but great fun dodging the pylons – I'm looking forward to it. Lots going on at the show – particularly looking forward to watching Mika Salo, the ex Ferrari and Toyota Formula 1 driver, doing an ultimate driving demonstration and the air show from the Baltic Bees in their L39s should be good too.
The flight over to Finland was 6:30hrs – straight across the North Sea with a tail wind giving 205 kts. This really is a beautiful part of the World and no better place to view it from than my 'Abarth' Extra 330sc

Training day are Thursday and Friday 16/17th. A short video of training can be seen here.
So, who is Sami Kontio? Finnish aerobatic champion and airshow pilot Sami Kontio arrived on the air display scene in 2002. Only ten flight hours after earning his pilot wings, he competed in the Finnish National Aerobatic Championships and won the silver medal in the Sportsman class! Seven years later in WAC at Silverstone, Sami competed against the world's greatest pilots (me included) and he ranked eighth which established him as one of the top aerobatic aces around.
Jyväskylä Airport is near the centre of the Finnish Lake District about 20km north of the center of Jyväskylä. The Air Force Academy Flight School and the Air Force Academy Supporting Air Operations Wing are stationed here along with the Aviation Museum of Central Finland.